The time has come, the first 104 of a total of more than 200 Locator One devices have been installed on the Gorinchem – Waardenburg dike reinforcement project! Commissioned by the Waalensemble consortium (Heijmans, GMB, De Vries & van de Wiel and supported by advisor Royal Haskoning DHV) as part of the Graaf Reinald Alliance with client Waterschap Rivierenland, the monitoring of soil settlement will be carried out in the coming years in a smart and innovative way using Basetime's Locator One.
Over the next five years, the dike between Gorinchem and Waardenburg will be raised, widened and reinforced over a total length of 23 kilometers. In order to maintain control over the embankments during construction, the body of the dike is normally measured by a surveyor. Due to the greasy clay soil, this is rigorous work and not completely without dangers such as collision and tripping hazards. Together with a desire for innovation, Locator One proved to be the ideal solution for this project.
How Locator One Works
The devices are mounted on the settlement rods and measure both the settlement of the base plate and the thickness of the appropriate ground body. The raw measurement data is received in our cloud environment, after which it is processed in Basetime's calculation environment into reliable coordinates and other information that the geotechnical department needs. Finally, the data is linked via an API to the management system of the geotechnical department, where they can immediately analyze all information from behind their desk. By combining accurate data at a predefined time, the geotechnician is able to provide a more reliable prediction of expected settlements.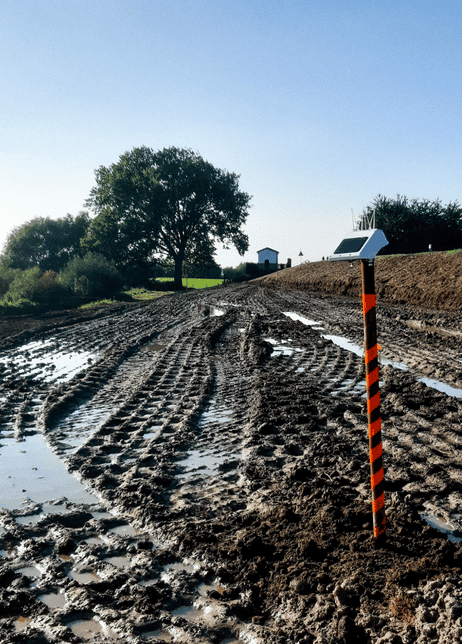 Consortium Waalensemble emphasizes on the importance of innovation and by choosing Locator One it reduces the travel needed on the project, thereby increasing safety and reducing CO2 emissions.
More information
Basetime provides you with reliable and securely collected data at the desired time. For more information, visit www.basetime.nl or get in touch via info@basetime.nl
For more information about the project Dijkversterking Gorinchem – Waardenburg, please visit www.gralliantie.nl.