Sittard, February 24, 2022 – The Boels Rental Survey & Laser division has entered into a partnership with Basetime, a company founded by Richtlijn Geodesie and SODAQ. Richtlijn Geodesie specializes in collecting and analyzing geodetic data, while SODAQ has been a pioneer in the development of low-power IoT solutions. With this collaboration, Boels Rental has secured an innovative partner that fits the pillars of the company.
Ingredients for an accurate measurement
Basetime, an innovative company created by bundling individual expertise and (market) knowledge, is located in the Netherlands and has 50 employees. With Basetime's technology, the rental company is able to provide a full-stack solution in the form of device, database, dashboard, and ongoing support.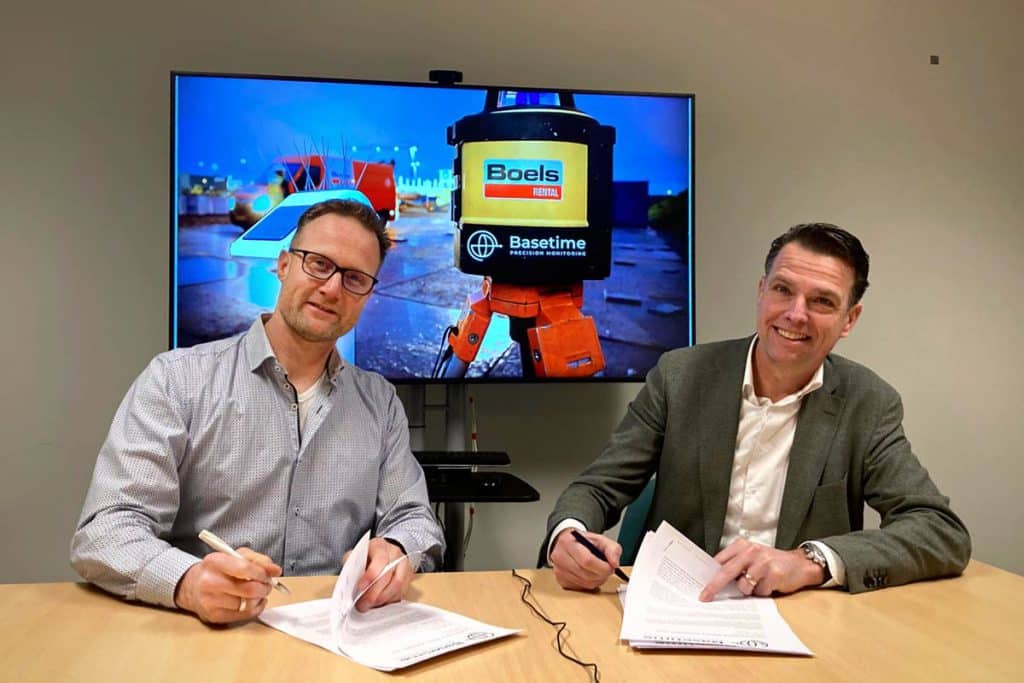 For instance, through the use of Basetime's device, Locator One, the displacement of roads, tracks, dikes, quays, buildings, and other objects can be measured and monitored remotely. This is done in a CO2-neutral way with the help of GPS, radar,  a solar panel, and the Internet of Things (IoT).
International ambition
It is expected that the Locator One will soon be deployed internationally, starting in Europe. The importance of measuring and monitoring the gradual movements of buildings and objects has become apparent in recent years, after events such as the collapse of a parking garage at Eindhoven Airport. Currently, there is a pilot running at Van Oord in which 28 Locator Ones are measuring the vertical movement of the original ground level as well as the level and thickness of added layers of sand. The devices are also suitable for other monitoring purposes, such as the movement of bridges, harbor quays and sheet piles.
Robbert Willemsen, responsible for Boels Rental Survey & Laser, explains: "The demand for more efficient and smarter methods, in combination with more detailed insights into the movement of sites and objects, is increasing. With a technology partner such as Basetime, we are able to offer in-house autonomous and efficient solutions to reduce the challenges and expensive human errors, while increasing productivity and safety at work. In addition, the devices are emission-free, battery-free and can be used again and again. This significantly improves sustainability and fits in perfectly with our mission for a safe and sustainable world."
"The partnership with Boels Rental gives us access to a wider audience to change the world together with our partner and solution. By offering the option to rent the devices, short lease or a combination with purchase, we offer our customers a wide range of options. Therefore, we are very proud to be able to announce this collaboration with Boels Rental", says Robbert Woltering of Basetime.